Les Comptoir des Cotonniers, vous connaissez?
Leur campagne de pub mère-fille géniale?
Et bien figurez-vous que le Comptoir des Cotonniers UK organise le 7 octobre un casting à Londres.
Tous les détails ci dessous.
Si vous êtes une maman et que vous avez une fille.... pourquoi ne pas tenter votre chance?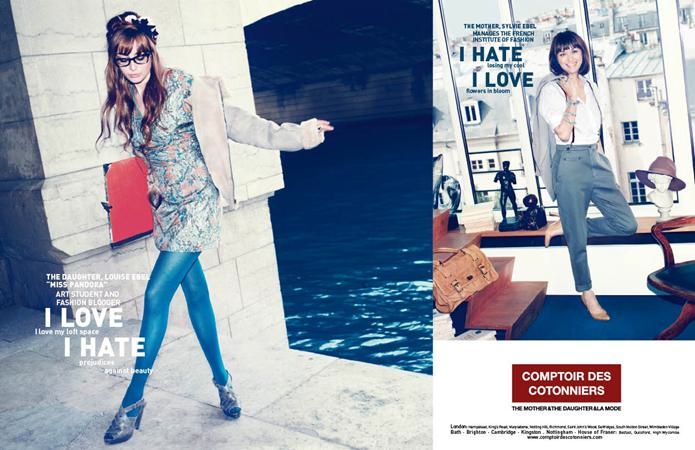 Comptoir des Cotonniers are bringing Parisian chic to the masses with their seasonal Mother – daughter casting call. We are looking for duo's who embody the effortless, cool confidence of the French, with a strong sense of style and the attitude to back it up. Take inspiration from our AW10 winners Louise Ebel, the influential Blogger " Miss Pandora" whose blog is a sartorial pit stop for thousands of French fashion lovers and her mother Sylvie Ebel who manages the French Institute of Fashion.
To be in with the chance, Comptoir des Cotonniers are inviting mother-daughter candidates to join them at their castings which are held worldwide on the 7TH October 2010.
The UK castings will be held between 4-8PM, within the following stores:
· LONDON – 15 King's Road, SW3 4RP
Those selected from the castings will be whisked off to Paris to appear in the catwalk presentation later that season along with the opportunity of appearing within the advert for Spring Summer 2011.
The Spring Summer 2011 campaign will follow on from the energetic fashion focused, 'new look' that was introduced for Spring Summer 2010, where modern portraits demonstrated the playful and innovative side of the much loved French brand, creating a sassy and exhilarating fresh look.